kosmo's
You are browsing the archives of "kosmo's."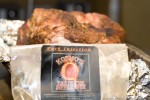 We know, it's been a while since our last blog post.  However we've been hard at work on the "In the Hut" podcast.  Today we'd like to bring to you our review on Kosmo's Pork injection.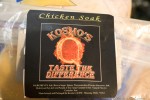 As you  the reader know that we're a fan of brines.  A brine is normally what you make of it in that there are not many brines for sale on the market.  We recently got a chance to review Kosmo's chicken soak.