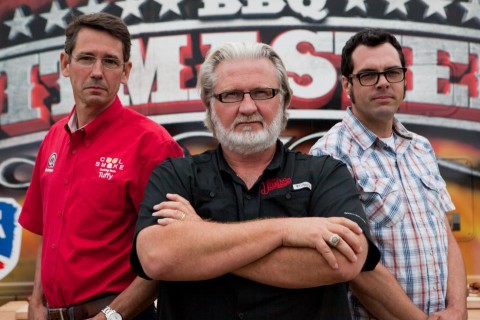 The BBQ Pitmasters started off this season with a sneak preview on Wednesday May 30th in Tupelo Mississippi.  The judges for this season were Myron Mixon, Tuffy Stone and new comer Aaron Franklin where the others either competed or judged in seasons past.
Meet the Competitiors:
Jim Stancil chief cook of Bare Knuckles BBQ – Oxford, GA
Hank maiden chief cook of Cotton Patch Cooking crew – Columbus Mississippi
Solomon Williams of Carolina Rib King – Georgetown, SC
One thing I loved about this episode is that there was emphasis on each contestant's smoker.  Jim Stancil was cooking on a ceramic cooker by Primo.  Hank Vaiden came in with one Jack's Old South smoker and one Backwoods smoker.  Solomon Williams came in with a rotisserie smoker and I could be wrong but it looked like an Old Hickory or Southern Pride smoker.  The show also mentioned what type of smoker each one was i.e. indirect, rotisserie, or water.
The subject meats in this competition was Beef Brisket and Beef Tri-Tip.  The latter is something that is not seen much east of the Mississippi more on that later.  Both meats were the "waygu" type which Tuffy explained came from a breed of cattle from japan that were massaged and coddled and fed a lavish diet.  All of the cooks were given 11hrs to cook both of these meats.  There was definitely a difference in cooking styles between the teams as some went hot and fast, which is slowly becoming more popular in competition BBQ while others went low and slow.  The show revealed the temperatures that each team cooked at as well which in conjunction with the other info shared, I'm sure will give the novice cooker some awesome learning points should they want to make a jump into competition or even backyard BBQ.  One thing we couldn't understand is the team with the most experience with cooking tri-tips, Bare Knuckles BBQ at about 100 a year, starting cooking the tri-tip within the last hour allotted.  Unsurprisingly comments were made about its taste and tenderness that could probably have been offset had this meat been given a little longer cook time.  One other notable, was that Jim Stancil's boxes was hands down top notch and bested both of the other pitmaster's appearance.
Placing
3) Bare Knuckles BBQ
2) Cotton Patch Cooking Crew
1) Carolina Rib King
CONCLUSION
We believe the folks at Original Media knocked it out of the park this go round.  This looks to be the best marriage between season 1 and 2 possible.  We enjoyed all aspects of it from the banter to the educational lower-thirds throughout the show.  Also the judging was changed to blind judging and making this that much closer to KCBS judging.  Jim caught a bad break as it seemed he was punished for not including burnt ends with his brisket turn in.  Stay tuned to Huck's Hut for our recaps this season as we'll be breaking down these episodes for you one by one!!!