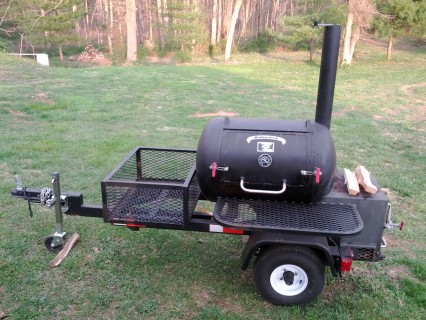 The Meadow Creek TS-60 is built like a tank.  The smoker itself weighs 425lbs minus the trailer.
As you can see here this unit has a charcoal basket in which we definitely had problems pulling out.
We were able to maintain a temp of 300 degrees for 3 hrs off of one split of wood and 10lbs of charcoal.  We were able to maintain the temperature as long as we added a split every hour thereafter.
Here is a few photos that will give you the idea of the guage of metal  and fasterners you're dealing with which accounts for this smoker's awesome ability to hold the temperature .
We put a 15lb brisket on the bottom grate which is deeper than the top grate.  We put 2 pork butts on the top grate but we found that all 3 could fit on the bottom grate as well.  We was also able to put 3 racks of st. louis cut spares on the top grate and enjoyed the fact that we didn't have to spin or flip them to make sure of an even cook thanks to its reverse flow draft.
The heat was controlled by the dampers on either side of the firbox(pictured below).  These dampers did get hot after some time but that was expected.  They control the temperatures on this bad boy quite effectively
We placed some spare spits of wood on the firebox as they were on deck prior to going into the firebox and they actually caught on fire thus confirming some of the leakage in the firebox.  We were told after our first day of use and being disappointed with its fuel consumption that the newer models have an insulated fire box.  The amount of lost heat from the firebox alone begs for the aforementioned insulated firebox.  As far as the meat, our meat came out awesome and it's a pretty good cooker
Pros
Heavy gauge tank like build helps ensure even cooking
Cook area is impressive, even better than it looks
Cons
Very heavy on fuel consumption(due to non insulated fire box)
Charcoal basket can be difficult at times to pull out especially when fire exists