One thing that a competition BBQ team needs each time out, is to have a consistent cook.  Getting your name called in a category is fun, but everyone there wants to hear their name called last. You don't have to win all four categories, but just have a strong cook in all. I was doing well in the pork & rib categories, but struggled in the chicken & brisket categories, I think it is these cuts of meats that most home cooks do not have experience with. Coming from the backyard into cooking competition BBQ, I had never cooked a brisket till I was in my first competition…we did not come in DAL, but…enough said. Chicken on the other hand, everyone has cooked chicken at some point in their lives, but cooking to competition standard…now that's a different story. To many, chicken is the arched enemy of BBQ teams, there are many steps that need to be followed to achieve results that will please the judges. The procedure to get your chicken to that point, can be quite time consuming, some folks take longer then others, I have spent 5 hours prepping chicken for a competition, but of course, as time went on the more beer I drank, the more socializing I was doing, well you get the picture.
I try to do a chicken practice cook, when ever I can, and chicken is one meat that my family still enjoy, with practice comes results, I am probably most proud of our first place chicken award at our last competition. This was our first call EVER for chicken, backyard or pro, we got RGC at the event, but I keep telling everyone about our first place chicken!!!
I was happy with where we were going with our chicken, but I still had to try it again, just to make sure it was not by accident that we did so well in chicken, you can do the exact same procedures each time your out at a competition, and come home with different results each time. I want to do everything I can on my end to give the judges something to work with, if they score me down from what I turn in, at least I know that I have done everything I could have done. A couple of weeks ago I was taking, online, with a friend of ours here at Hogs Gone Wild BBQ, C-Dub's BBQ Rub.
I have not had the opportunity to check out their great rubs, but I plan on doing it very soon, but I hear it is GREAT on chicken. Anyway, C-Dub's and I were taking about chicken prep, online, and it got the urge to do a practice cook going again for me. C-Dubs and I exchanged a couple of ideas, then it was off to the drawing board. Thanks C-Dub's!!!
I will be happy to share how I prepare my competition chicken with everyone, most things here can be found, more in depth trough out the internet, this is just a basic guide to do a couple of things that I feel are necessary to create competition style chicken. I will not be able to share certain, "proprietary" secrets, and flavoring will need to be something that everyone should do to their liking, but I did give you a good hint above!!! (Another hint…I do not use muffin pans!!!)
Let's begin, I always cook thighs, white meat is fun to try out and experiment with, I have even thought about wings, but I always come back to thighs. There are many teams that have used wing, with good results, I'm just happy to get the thighs where I like them. Thighs stay juicy and have a good flavor, I do not take the bone out. I started off by cutting the "knuckle" joint off, but I have decided to stop doing that, I do not like the way the bone is exposed on the end piece.
I look for the package of chicken, that has the most uniformed pieces, the skin looks good & does not have any discolorations. Some chicken skin will appear to be yellow, I try to stay away from those brands, I want the skin to be as white as possible.
I take special measures with chicken, I store it sepetate from all other meats, I use different cutting boards & work ares designated just for my chicken. The first thing I do is wash the chicken, then I take the skin completely off the piece of chicken. I just pull it off, some folks say it is better to cut it off, but I like to preserve as much skin as possible. I trim the fat from each side of the chicken, and make the piece nice and uniformed shape.
From the under side of the thigh, there is a small loose piece of meat, commonly referred to as the "oyster", I always remove this piece. When a judge bites into the piece of chicken, this could put the flavor off, and has a strange texture after cooking, best to just remove it.
After I cut off the oyster, I want to take care of a problem that gets many teams disqualified at the competitions, taking out the blood vein, (that's what I call it, i don't know the official name for it). This vein can be full of blood, even after washing the chicken thoroughly. The chicken can cook to temperature, but this vein can hold the blood, when bitten into, it will flow out, as if the chicken is under cooked, and we all know what comes from bloody chicken…disqualification!!!  I norally find this vein near the bone, I will go in with my knife and work it along the bone, using the backside of the knife, if you use the sharp side of the knife, you'll just cut through the vein. Use the backside of the knife, and pull the vein out as far as you can then cut it at each end. There is  some extra work doing this, but it is better then having your box returned to you at the competition with a DQ.
I want my piece to be a nice uniformed piece of chicken, I take off as much fat as I can. Normally end up with a heart shaped thigh.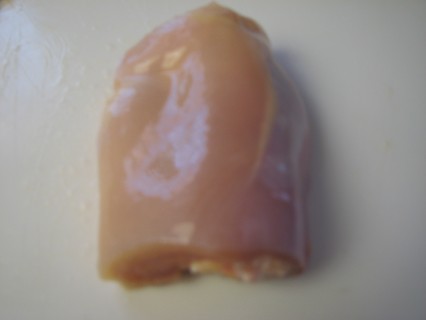 I will place the thighs only, keep the skins off to the side and cold, into a zip-lock bag for marinating. There are many commercial marinates and chicken soaks on the market, if you have a favorite, please continue to use them, I use Italian salad dressing. Yes it is true, Italian dressing makes a good marinate for chicken, the oils and vinegar works well on the chicken, and gives good flavor. I will try to have my chicken in the marinate over night. Please be sure to rinse all the marinate off your chicken before cooking.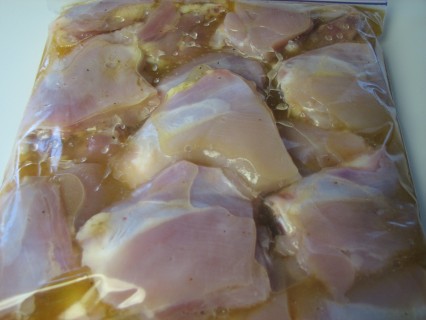 Now I turn my attention to the skin. Skin on the chicken is another BIG issue. even before the judge is able to taste the bite he/she had just taken, they evaluate if there is, what is known as "bite through skin". The last thing you, as a competition BBQ cook wants, is for the judge to take that bite of chicken, and the entire skin comes off in that one bite. The judge was not able to bite through the skin cleanly. Smoking/grilling chicken, can lead to tough and rubbery skin, not a good thing to have on any chicken, mostly your turn-in chicken, one of the best ways to insure that does not happen, you need the skin to be a thin as possible. All the fat from the underside of the skin MUST come off.  This does take some doing, and I would suggest doing some practice, before going to a competition. This will be something you will need to master, and not many folks will get it right on the first try. There are a couple of ways to achieve this, some like to scrape the skin, I like to use a thin filet knife, and cut the fat off.
Now I wrap the skin back onto the thigh, keeping everything as tight as possible, and place the thigh on your rack for cooking. As far as seasoning, and some special cooking techniques, there are so many out there, I will leave this up to you to decide which is best suited for you and your team.
I cook thighs at 275 degrees for at least 1 hour & 45 mins. For chicken you are looking for an internal temperature of 178-182 degrees. DO NOT UNDER COOK YOUR CHICKEN!!! When the chicken is at the point where I am satisfied that it is done, temp is good, and only clear juices coming out of thigh, I will then dip the entire piece into my sauce and place back on the grill for another 15 mins at 300 degrees.
Pull the chicken off the grill and let rest.
Test your product!!!
We made a mock box for your practice cook, it is not an official box, actually is the top of a serving plate. The competitions we enter are Florida Barbecue Association events, and they do not allow garnish of any kind.
I hope this has helped answer a couple questions about chicken, trust me, you never stop learning. Fell free to add comments, or to contact me at www.hogsgonewild.com Thanks for your interest.