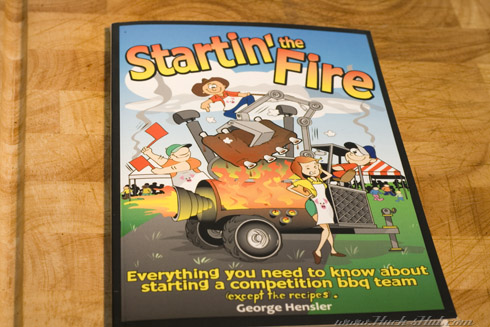 Starting the fire is a book about everything you need to know about starting a competition bbq team except the recipes.
When I got the book I was motivated to read due to the thickness(not thick at all) of the book. I spent a couple days checking out the art work on the front page and the back page with comments from Ray Lampe aka dr bbq, Rick Browne and Mike Stines . When I started reading this book, it became personal right away. First of all thanks to Al Gore for inventing the internet. George stated on a forum that he was writing a book and was looking for bbq pictures. Now I regret not sending our logo to make this book. My brother in law and I went to the contest in green lane, pa last year as spectators and we sat at the table at awards time with "Who Are Those Guys" (WATG) which we didn't know at the time. After 4 top ten calls and a RGC we knew who those guys were. The book is very informative for people who plan to compete or for fans of pitmasters to know whats required to compete. As a comp bbq team we found this very valuable. This book will shortening the learning curve. From picking a name to team mates, bbq equip and the things needed compete, Transportion, box building practice were points that addressed. Resoures such as bbq forums, bbq books, equipment sources, review of kcbs rules,and bbq lingo. Reading this book could cause an addiction. But it will have you totally prepared for competition bbq. I am sure George would agree with me that he wish he had read this book before starting to compete. We think any one planing on or competing can gain valuable info from reading this book. George where are the recipes? I guess that'll be in book 2.
This book is available via George's site or Amazon.com.